Findhorn
Findhorn Beach
(Unofficial). From the village of Findhorn the beach stretches several miles East around the bay to Burghead. The beach is golden sand with shingle at the top, and dotted along it are the remains of WW2 coastal defences. The Western half is backed by dunes, whilst further East towards Burghead there is Roseisle woods.
Directions
Either follow the B9011 to
Findhorn
and park in the beach car park (free)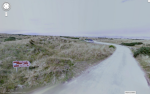 , or take the B9089 and turn off at the signpost for Roseisle car park (free). From Findhorn walk East until you come to the end of the dunes. From Roseisle walk West until you are a good distance away from the entrance to the beach.
Findhorn is not an official naturist beach, but on hot summer days it's not uncommon to see people skinny dipping in the sea or sunbathing amongst the extensive sand dunes. I put this down to the multinational presence at the nearby
Findhorn Foundation
, lots of German, Dutch, and Scandinavian visitors use the beach.
Use common sense, keep to the part of the beach between the end of the dunes and the beach entrance further East at Roseisle. People do walk their dogs or run along the beach, fortunately you can see them coming a long way off.
Also be aware that the Moray Coastal Trail runs along the top of the beach for a few hundred metres, and is popular with walkers. The dunes however do offer seclusion, and it's quite easy to find a sheltered spot to sunbathe nude.
The couple of times I've unexpectedly encountered textiles there has been no issue, they either smile and wave, or one individual kindly suggested that if one wanted to go naked then further along the beach towards Roseisle would be quieter (as I suggested above).
Please remember however that this is an unofficial naturist beach, and for the benefit of other naturists who may wish to use the beach please be respectful of other people, only go naked further along the beach, and cover up if you see any textiles approaching you.
Thanks to Jim